Hardscapes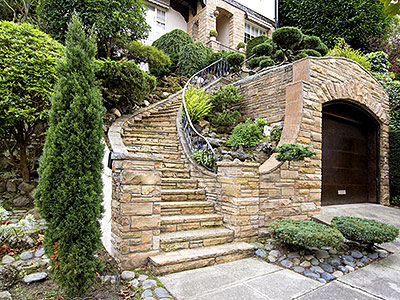 A landscaped property will not be complete without any hardscape feature installed in it. Hardscape features will not only add a dimension to the landscaped area but also make it more functional, safer, and more organized. The installation of retaining walls, for example, can highlight the beauty of the garden and protect it from possible soil erosion. Meanwhile, garden paths and walkways are created to enhance the landscape's accessibility. These are just some of the reasons why hardscapes are critical features in a landscape. If you are planning to install these features in your property, make sure that you hire experienced and knowledgeable builders like us.

At The Other Side Landscaping & Disposal, we have decades of experience in hardscape design and installation. Our creations are noted for their unique designs and quality workmanship. We make sure that the hardscapes we build will complement with the property's architecture and overall theme of the landscape. Most of our completed hardscaping projects are located in Providence, Pawtucket, Woonsocket, Cumberland, Smithfield, Johnston, Cranston, and Jasonville, RI. Our clients from these areas can attest to our competencies and capabilities as hardscape builders. With us, clients can get their desired outdoor features at reasonable costs.


Pavers
Pavers are the usual materials used for hardscape construction. These masonry materials are durable and long-lasting, making them the most preferred materials for outdoor structures and amenities. They are also the best option if you want to improve the outdoors' aesthetic appeal. Paving products come in a wide range of designs, so installers like us can easily come up with beautiful paved amenities. They are perfect for patios, pool decks, walkways, courtyards, garden paths, driveways, sitting areas, and outdoor living spaces.

There are different types of pavers that can be used on your hardscapes. You can opt for concrete, bricks, or stone paving, depending on your desired look or available budget. If you are environment conscious, you can choose eco-friendly paving materials, such as permeable, turf, and rubber. The permeable type helps mitigate water runoff.


Retaining Walls
As mentioned, the purpose of retaining walls is not only for aesthetic appeal. They are installed to improve safety around the landscape and create additional functional spaces. When designed by professionals, a retaining wall can create a new space for flower gardens, sitting areas, or outdoor living spaces.


Paver Patios
Most of the hardscapes that we build here at The Other Side Landscaping & Disposal are paver patios. These features allow property owners to enjoy the beautiful scene in the outdoors. They can use these areas for rest and relaxation, family bonding, entertaining guests, or special occasions. The great thing about patios is that they can be built even on a shoestring budget. A small open-type paver patio will already improve the appeal and functionality of your outdoors.


Driveways
All kinds of driveways must be well-designed and made from the finest materials available. Their structural integrity must be ensured since they are subjected to constant vehicle traffic, extreme weather conditions, and other harsh outdoor elements. At The Other Side Landscaping & Disposal, we recommend only resilient and top-quality masonry materials for our driveway installation projects. The top materials on our list are stone and concrete pavers. These pavers are specifically manufactured for load-bearing hardscapes such as driveways and walkways.

Please call us now at (401) 722-3616 for all your hardscaping needs.


More Articles