Landscape Design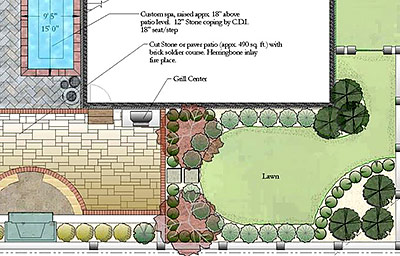 Do you want a uniquely designed English-style garden? Or perhaps, a man-made waterfall connected to a pond with beautiful aquatic plants? You can have all these if you get the services of highly experienced landscape designers. They can help you realize your landscaping ideas by including them in the landscape design plan. Moreover, professional landscape designers are equipped with the latest design tools, so they can easily incorporate your suggestions or make revisions when necessary. The design plan is also rendered in full color, allowing you to visualize the landscape before its actual installation.

However, finding the right designer is a daunting task since there are numerous service providers in the state. Your other best option is to just hire us at The Other Side Landscaping & Disposal. We have creative and experienced landscape designers who are capable of creating highly personalized landscape designs. They can create designs for residential and commercial landscapes without any difficulty because of the latest design tools that they use. In fact, most of the beautiful landscapes in Providence, Pawtucket, Woonsocket, Cumberland, Smithfield, Johnston, Cranston, and Nasonville, RI are our handiwork. If you want to see our complete list of landscape design projects, please call (401) 722-3616 now.


Landscape
Every landscape type has unique design requirements. The approach used for designing residential landscapes is different from commercial or public spaces. But with the help of professional designers, the specific needs and requirements of your landscaping project will be taken into consideration.


Landscaping
You will get a well-designed landscape if your designer can cleverly combine different landscape elements and use them to highlight the beauty of your property. For example, the softscapes should be a combination of annuals, perennials, shrubs, and trees to achieve a nature-like environment. To achieve balance, the landscape design plan should include hardscape features, such as walkways, garden paths, sitting areas, retaining walls, and outdoor living spaces. Another vital landscaping element is the water feature. Adding one or two water features will create a relaxing ambiance in the landscape. Other important elements that should not be overlooked by your designer are shade structures, landscape lighting, fire features, and wood elements.


Landscaping Ideas
Getting ideas from publications is not a bad idea. In fact, most of the landscaping ideas that you will find in print and online media are recommended by top landscapers in the country. That means you're getting professional advice from industry experts. However, personalization is still the best option when designing your landscape. The landscape design must be based on your actual needs and desired look for the outdoor area. An onsite assessment will help your landscapers choose the right features to add in the design plan.


Garden Design
There are a lot of garden designs that you can choose from. Some of these are recommended for properties with limited space while others are best installed on an expansive landscape.


English-style gardens
Pocket gardens
Rock gardens
Rose gardens
Tiered gardens
Japanese-style gardens
Water gardens
Your chosen garden design should complement with other landscape elements. In addition, the location of your garden must be carefully selected since it can affect the overall landscape theme. If you need the help of landscape design professionals, please call us at The Other Side Landscaping & Disposal. We can create beautiful, colorful, and sustainable gardens in your property.


More Articles