Landscape Maintenance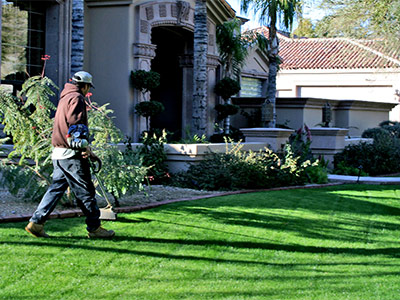 The beauty of your landscape will not last long if you don't have a sound maintenance plan. Every landscape element needs specific care and must be maintained on a regular basis. For example, the lawn must be mown weekly or twice a month to encourage proper growth and improve its resistance to diseases. If you have a well-maintained lawn, it will become more attractive and favorable for outdoor activities. Meanwhile, the hardscapes or masonry features also need expert care. They must be cleaned, sealed, or repaired to maintain their beauty and structural integrity. You should also ensure that the other landscape features are in their tiptop conditions. The irrigation and drainage systems must be functioning efficiently while the outdoor lighting installation must be checked for possible issues such as damaged wiring and busted lighting fixtures. These are just some of the landscape maintenance works that you must perform on a regular basis.

But why burden yourself with these tasks if you can just hire a landscape maintenance company? At The Other Side Landscaping & Disposal, we can maintain your landscape at a cost that won't hurt your pockets. We've been in this industry for more than two decades, so we have the skills and expertise to handle various maintenance tasks. Our professional crews use proven methods and techniques to ensure outstanding results. They are also proficient in handling special tools and equipment, so the tasks are performed accurately. Please call (401) 722-3616 and let's talk about the maintenance needs of your landscape. We serve Providence, Pawtucket, Woonsocket, Cumberland, Smithfield, Johnston, Cranston, Jasonville and other cities in Rhode Island.


Landscaping
A well-maintained landscaping has healthy plantings, lush lawns, clean paver features, efficient irrigation, and proper functioning water features. You can only achieve this kind of landscape if you get the services of a reliable and experienced landscape maintenance company. Every maintenance task requires a specific skill set that only properly trained individuals can perform with great proficiency. For example, experienced companies like us can guarantee a spic and span lawn by using task-appropriate tools and proven mowing techniques.


Lawn Care
Lawn care is another area of landscape maintenance that should not be neglected. In fact, you have to prioritize this task to address the needs of your lawn. For example, failure on your part to perform the scheduled mowing job can lead to unsightly outdoors because of overgrown grasses. A poorly nourished lawn will also result in ugly brown patches, weed and pest infestation, diseases, and weak root system. You can avoid these worst scenarios by getting a comprehensive lawn care package from local maintenance companies like us at The Other Side Landscaping & Disposal.

Here is a typical lawn care package that we offer to our valued clients:


mowing and edging
fertilizing
yard cleanups
core aeration dethatching
irrigation checkups and repair
pest and weed control
lawn disease treatment
seeding or sod installation
mulching
Lawn Maintenance
Not all landscape maintenance firms in the state can offer you first-class lawn maintenance service. Some of them may not be able to fulfill what they have promised because of inexperienced crews and limited resources. But with us, this will never happen. All our residential and commercial clients are assured of top-quality work regardless of the task's complexity and scope. Our customized maintenance plan always yields outstanding results, so please call us now to try our services.


More Articles